New images released of new YMCA café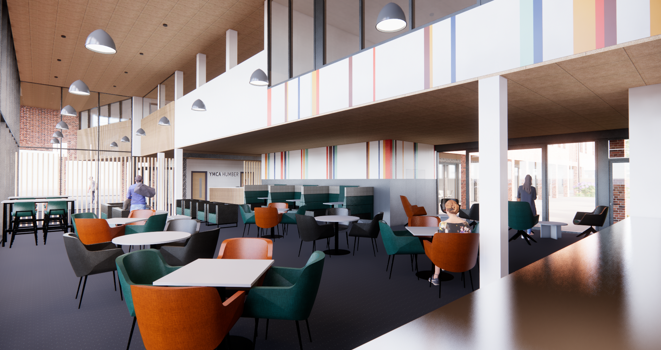 YMCA Humber's eye-catching community and residential development at Freeman Street, Grimsby, is gathering pace towards completion later this year.
Works commenced on the site in April 2020, and since then fantastic progress has been made enabling the project to proceed at pace despite the challenges of the Covid-19 pandemic.
Today YMCA Humber are pleased to release their ground floor internal design imagery.
Steve Rusling, Head of Digital Marketing and Communications for YMCA Humber said, "These amazing images have been created by Hodgson Architects showcasing our ground floor public space including our new café.
In recognition of a generous donation from the Bradbury Foundation we are delighted to have named the café; The Bradbury Café."
In 1964, Bertram Walter Bradbury funded what has developed into the Bradbury Foundation, Hong Kong. He arrived in Hong Kong in 1909 and died there in 1970. During Second World War, he was interned by the Japanese, before making his fortune as an entrepreneur after the war. The charitable trust initially supported local Hong Kong charities. The was, however n longer possible following the handover of Hong Kong to China in 1997.
Sinc then the Bradbury Foundation has continued to support British registered charities in the UK, continuing to maintain its strong ties with the YMCA, British Red Cross and charities that help the elderly and disadvantaged.
The Bradbury Café at YMCA Humber will be the heart of the Freeman Street centre, a vibrant, comfortable café which can easily accommodate over 50 people and will offer something for everyone – whether it's coffee and cake with a friend; an informal business meeting or lunch date, everyone will receive a warm welcome.
As well as serving hearty, delicious hot and cold food, The Bradbury Café will be serving Lavazza, Italy's Favourite Espresso Coffee, which will also be available to take away.
Another of the images shows the welcoming ground floor reception area and unique entrance to the building, which also boasts an exciting exhibition space, an ideal platform for local creatives to display their talents."
Stephen Gallaher, Chair of Trustees at YMCA Humber added "We look forward to working with local artists and organisations to showcase their work at our new exhibition space on the ground floor of our new Freeman Street centre. We already have some exciting plans in development and can't wait to share these in the near future."
YMCA Humber are also recruiting for a café manager and Head of People and Policy at YMCA Humber Kate Conway said "We are looking for the right person, with the right skills and the right ethos to lead a small team of staff and volunteers to launch our brand-new café and enable our vision to come to fruition. If you would like to apply, please visit our website www.ymca-humber.com/careers as soon as possible."