The architects of YMCA Humber win regional award.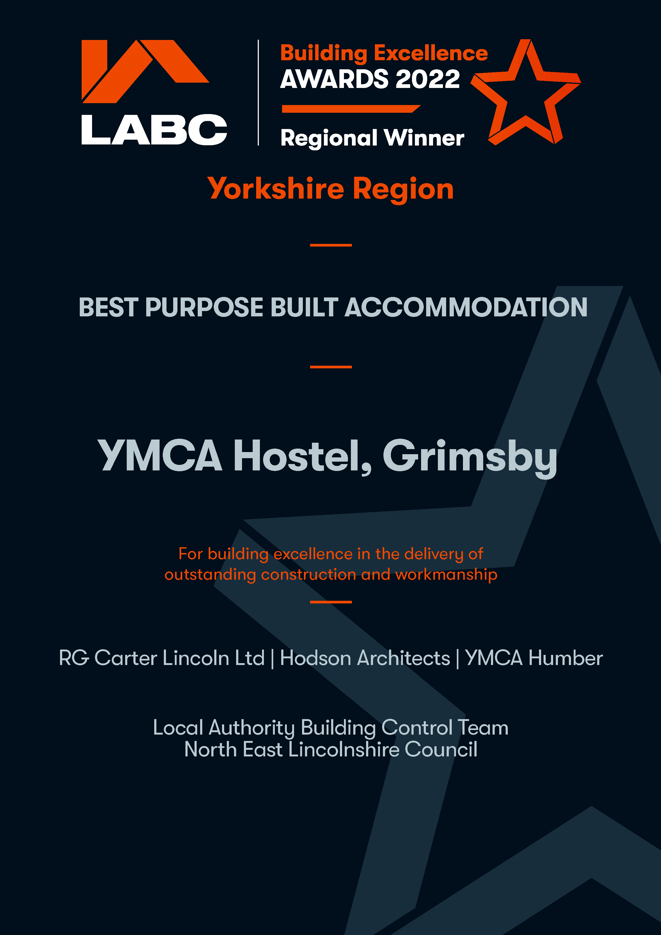 The architects and builders of YMCA Humber, Freeman Street, win regional award.
In October 2022, RG Carter Lincoln Ltd and Hodson Architects became a regional winner for the Building Excellence Awards 2022, under the category: Best Purpose Built Accommodation.
We are extremely proud of both businesses who brought our vision on Freeman Street to life, to have been recognised for their hard work and skills.
Mark Hodson, from Hodson Architects said, "the rebuild of YMCA Humber was such an important and professionally satisfying scheme from start to finish. It was an opportunity to completely reimagine the YMCA set up and allow them to grow and expand their services, an opportunity which was embraced by the client and design team. Considering the works were largely undertaken during lockdown it's a testament to the hard work and enthusiasm of all involved that an award-winning building resulted."
In September 2022, YMCA Humber celebrated their one-year anniversary on Freeman Street and with their new build and facilities, have been able to offer more to the community through room hire, The Bradbury Café, free parent and toddler groups and a free youth club.