YMCA Humber officially handed keys to new development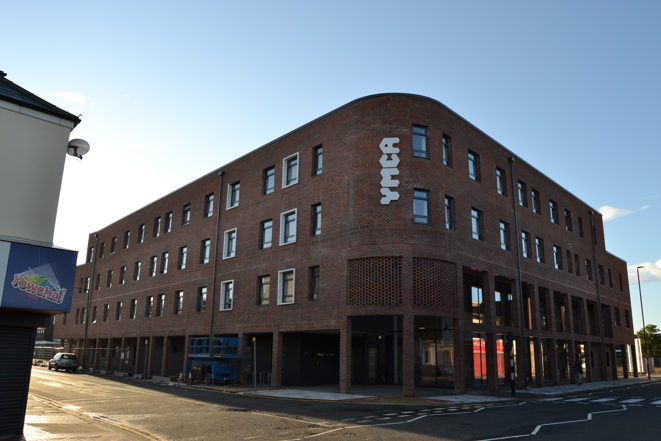 YMCA Humber were officially handed the keys to their new £8.5m development on Freeman Street last week as the building was completed and handed over by the main contractor RG Carter.
Kate Conway, Interim Chief Executive of YMCA Humber said, 'We are delighted to have moved almost 70 residents into their new home, 21 Freeman Street. I was absolutely blown away with the teamwork between staff, residents, and contractors to allow moving day to run like clockwork! The building provides 3 floors of aspirational accommodation including en-suite bedrooms and shared social spaces where residents can cook, eat and socialise together.
We would like to thank all the contractors, funders who have worked tirelessly throughout the COVID-19 Pandemic to complete the new eye-catching community and residential development.'
Longhurst Group provided project support to the YMCA, particularly in relation to funding and the procurement of the contractor for the project.
Nick Worboys, the Group's Director of Growth, Development and Sales, said: "We're absolutely delighted to see the scheme come to fruition and are very proud to have played our part.
"It's taken a lot of work to get here, with a number of hurdles to be cleared. However, thanks to the dedication and perseverance of the YMCA and wider project team, those challenges have been overcome and has resulted in an absolutely fantastic resource for the community.
"This is a transformational project that has not only provided vital accommodation and support for its residents, but has also successfully regenerated a key area of Grimsby.
"As a Group, our vision is to improve the lives of the communities we serve and this is a shining example of how we continue to do that."
Samantha England, Head of Housing added "This beautiful new building creates a perfect environment to allow our team of support coaches to assist residents in gaining the essential living skills that they will need when they move on from our accommodation. We assist residents with tasks such as budgeting, cooking, maintaining a home, improving family relationships, mental health, and accessing education and training. Being in the heart of the East Marsh will allow them to more easily access other services, health facilities, shopping and transport links.  We have already had partner agencies contact us about opportunities for joint working in the building, so I very much hope that 21 Freeman Street will be a hive of activity within this community"
A resident from YMCA Humber said "I am over the moon with the new building. The rooms compared to the old are a million times better. I was having some suicidal thoughts, I had depression and I had been feeling so down. This new building has picked me up so much, it's amazing! I already feel like a new person, it's already saved my life. I'm now ready to face the world again. A huge thank you to all the YMCA staff.
YMCA Humber will officially open the building on Thursday 14 October, followed by a public open day on Saturday 16 October.
The open day will have something for everyone as YMCA Humber throw open the doors to the public for the first time, including tours of the new building with Mayor Cllr Hasthorpe cutting the ribbon at 10am, Free children's parties and activities, art & history exhibitions and members of the public are being asked to help create a garden sculpture in conjunction with local arts organisation Our Big Picture.