Meet Joshua
Joshua Wolfe, a resident at the YMCA Humber Foyer Project, has been awarded the Grimsby Telegraph's Against All Odds Golden Apple award for breaking down every barrier he has faced.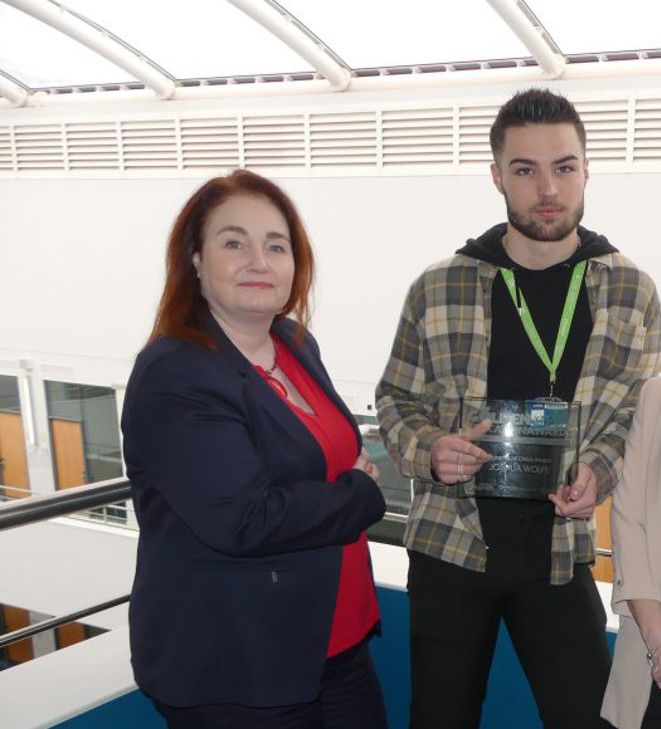 Meet Joshua
A special celebratory event was held at Double Tree Hilton Forest Pines Spa & Gold Resort that saw educational heroes from across North East Lincolnshire rewarded as the Golden Apple Awards celebrated top teachers and star students.
Despite his tough start in life, Joshua Wolfe, known by his friends as Wolfe, is determined to turn his life around to achieve his dream of becoming a fashion designer. He has started creating his first designs and has also taken a lead role in a Young Enterprise starting group.
Thanks to support from YMCA Humber and The Grimsby Institute, Wolfe is hoping his story can inspire others.
Wolfe, who was first made homeless at the age of 15 following a fallout with his mother said:
"The YMCA let me know it was okay to be human."
"When I first came, I didn't want to open up to anyone or show emotion, but they've shown me it's nothing bad."
Gemma Campbell, a Coach at the YMCA Foyer Project said:
"Wolfe's personal growth since moving into the Foyer has been outstanding."
"His love of fashion was apparent from day one, but his self-belief was lacking when it came to his own designs."
The YMCA has worked alongside Wolfe enabling him to realise his self-worth and encouraging him to chase his dream of being a fashion designer.
"We are incredibly proud of him and his recent achievements."
After signing up to the Enter Enterprise and Entrepreneurship course in September 2018, Wolfe is now on the road to fulfilling his dream and has scooped an internship at a top luxury fashion store in London.
The Institute has also supported Josh with start-up materials including a sewing machine, laptop and fabric. Wolfe said:
"The first time I met the Principal she asked me about my designs and what I'd like to do."
"She said they had some mannequins in the back room and asked if I wanted to see them, so I said yes, and all of a sudden all this stuff was just laid out."
"I didn't know what to do, I just cried. I don't cry over stuff like that either, it was just the fact that all these people believed in me."
"When people say you're never going to amount to something, you'll never do anything with your life, then suddenly there's a group of people in this room that believe in me as much as I believe in myself."
Debra Gray, Principle at Grimsby Institute, describes Wolfe as an inspiration, saying:
"For us, it is about getting Josh on his first and second step."
"If we can give him the tools he needs to do the job he wants to do, then it's our job to do so."
Recce Leggett, Programme Leader for Business, Enterprise and Entrepreneurship, added:
"Wolfe has made a massive impression since joining the college in September."
"He has worked so hard to break down all barriers he has faced, with the support of YMCA Foyer he is now on track to achieve his fashion dreams."
"YMCA Humber Chief Executive Debbie Cook also commented:
"Everyone at the YMCA is very proud of Josh and what he's achieved. He's a great example of what young people can achieve with the support they need."
"This is a great example of two organisations working together to help a young man achieve his goals."
Reflecting on his achievements and thanking those who helped him rebuild his life, Wolfe added:
"Thanks to YMCA and also to the college for helping me and believing in me."
"I just hope my story can inspire others in similar situations to now do the same."