YMCA Humber Purchase MUGA on Kent Street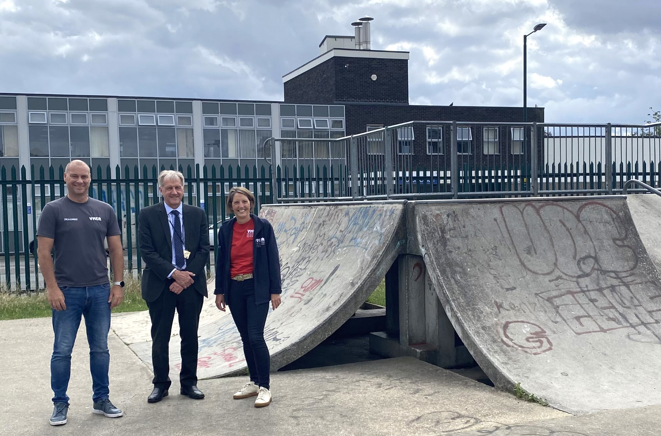 YMCA Humber purchase Multi-Use Games Area on Kent Street to renovate and develop their youth and family services.
In June 2022, YMCA Humber were provided with a 'licence to use' the MUGA on Kent Street by North East Lincolnshire Council to launch their new youth club. In the last year over 250 local kids have signed up to the free youth club, with 40 kids regularly attending each session.
Rob Baty, Head of Operations at YMCA Humber said, "we are proud to announce a momentous step towards rejuvenating the MUGA within the East Marsh. We have successfully acquired the former Multi-Use Games Area and are delighted to share our plans for its transformation into a vibrant sports hub for the local community.
The decision to acquire and refurbish this once-loved area comes as part of our unwavering commitment to empowering communities and fostering a sense of togetherness."
Since day one the youth club has been free of charge, funded by Active Humber and Humbersides Police and Crime Commissioner. This has provided a safe place for youths to spend their time after school and during school holidays, alongside encouraging families of the East Marsh to get active and build friendships.
The MUGA on Kent Street has become damaged and outdated over the years and YMCA Humber plan to renovate this space, using feedback from the kids and local organisations who use the MUGA.
YMCA Humber have received support from East Marsh ward counsellor, Nicola Aisthorpe, who said, "I am delighted that the MUGA and skate park will remain open under the new ownership of the YMCA. The commitment and efforts of the YMCA, together with my ward colleagues and I calling on the Council to keep it open, have resulted in a resounding victory for our community's youth and their access to recreational opportunities. 
The YMCA's presence on Freeman Street has already proven to be positive and successful, providing our young people and families with enriching activities and a supportive environment where they can thrive.
With ownership now placed in the capable hands of the YMCA, the door is open to even greater possibilities, empowering them to make an even deeper and more meaningful impact for our young people to explore and excel in sports. 
I look forward to witnessing the further positive impact the YMCA will undoubtedly bring to the lives of our young people." 
North East Lincolnshire Council's Portfolio Holder for Finance, Resources and Assets, Cllr Stephen Harness, is looking forward to following the progress of the MUGA. He said, "this is wonderful news and an ideal example of how North East Lincolnshire Council can work with a whole host of groups and organisations to ensure facilities, such as this MUGA, are successfully brought back into use for the good of our communities, and especially our young people.
We are sure this will now be developed as a well-used and important games and family area for all to enjoy – a successful story."
Over the coming months, YMCA Humber will be working with local partners, funders, and the community of the East Marsh to finalise renovation plans to ensure the MUGA is a vibrant community focussed sports area.