21 Freeman Street opening events a huge success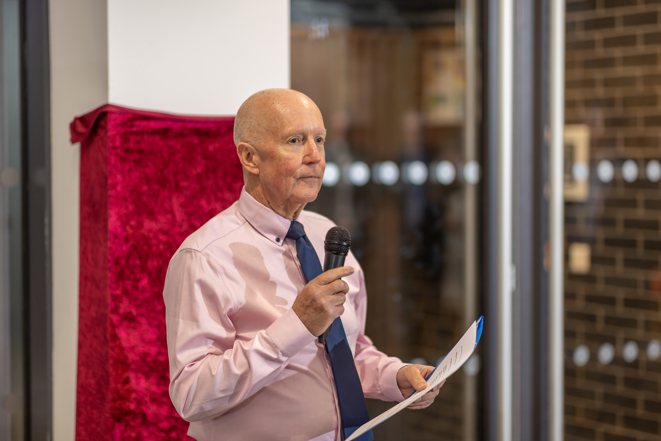 On Thursday 16 October, 21 Freeman Street, a new housing and community development by YMCA Humber was officially opened by Mr Stephen Gallaher, the chair of trustees of YMCA Humber during an evening of celebration.
Guests from across the Humber descended on the new building and were provided with a sumptuous 3-course meal, opening ceremony and live music.
The guests included Grimsby MP Lia Nici, The Leader of North East Lincolnshire Council, Cllr Phillip Jackson, local ward councillors, project funders, trustees, former trustees, partners and friends of YMCA Humber.
Mr Gallaher spoke at the plaque unveiling and said "YMCA Humber was keen to develop a headquarters and home for a large number of people that was at its very nature aspirational, quality, uplifting and a place where you feel valued. We believe 21 Freeman Street has enabled us to achieve this.
We want to thank the Freeman of Grimsby for giving us the opportunity to move to Freeman Street to fulfil our desire to move to the heart of Grimsby, join in with the Town Plan and play a part in the regeneration of the area.
21 Freeman Street from concept and inception through to completion was achieved incredibly quickly, especially as the contactors worked throughout the COVID-19 Pandemic."
The housing and community development is home for up to 74 residents, primarily under the age of 35, however age is no barrier to becoming a resident. The building has airy open spaces and views of the Dock Tower and consists of 3 accommodation floors divided into 8 'clusters'. A cluster is a group of rooms arranged around a shared social space for residents, which includes cooking and laundry facilities. The ground floor has purpose-built spaces for training, activities and counselling as well as conference and meeting facilities available for public use.  
Mr Gallaher was also presented with a framed picture of a drawing recently made by local artist Sarah Palmer. Sarah has been working with YMCA Humber's residents during the run up the completion of 21 Freeman Street, to help their residents create and produce artwork that was on display during the opening events.
After the official opening of 21 Freeman Street, YMCA Humber held a day of tours on Friday 17 October, allowing over 100 local businesses, voluntary & 3rd sector organisations and partners to tour the building and find out more about services and facilities provided, before holding a very well attended public open day on Saturday 18 October.
The opening day had hundreds of local people visit throughout the day, dining in the café, attending the children's discos and taking part in a willow weaving workshop provided by Our Big Picture and Lincolnshire Willow.
The public open day also doubled up as the official opening of the Bradbury Café. The Café is spacious and modern with lots of natural light. The menu has breakfasts, lunch, light bites and snacks as well as a wide variety of cakes and treats on display.
The open day ribbon was officially cut by the Mayor of North East Lincolnshire, Councillor David Hasthorpe during a ribbon cutting ceremony in which residents, staff and the general public attended.
After attending the event, the Mayor Councillor David Hasthorpe said "An amazing building and great work being done here by all. Our privilege to be involved. Wishing all staff and residents our best for the future."