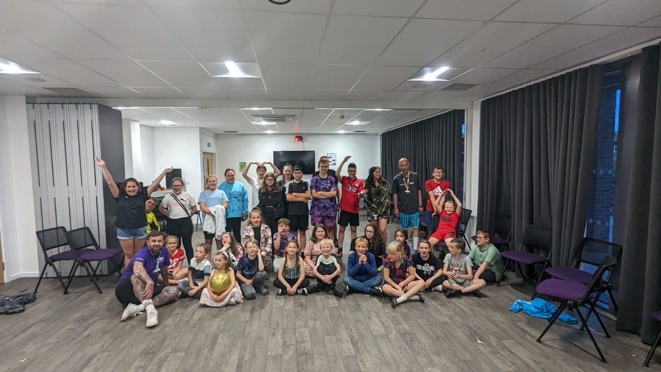 Following the success of our previous Christmas and Easter holiday clubs, North East Lincolnshire Council and the Department of Education provided us with further HAF funding to allow us to deliver a six-week summer holiday programme.
39 activities took place across the six weeks, including a three-day trip to Kingswood.
During the six weeks we delivered a variety of activities both on and off site, such as paddleboarding, CrossFit, ice skating, climbing and parkour, music/DJ lessons, football, hockey, golf, a trip to the cinema, bowling, a visit from Lion Learners, and a variety of wellbeing sessions.
Each session was attended by a mix of youths from different schools who came together to learn new skills, try different experiences, and build new friendships.
The funding allowed us to bring in experts from different fields, we were joined by Stu Warren, a PGA Professional and Junior Specialist, Anabelle Munson from Core Centre of Performing Arts, Rachael from Lion Learners, the sports team from YMCA Lincolnshire, James and Rob from Freestyle Academy, and Joel Bird from Grimsby Hockey Club.
James Munro from Freestyle Academy said, "Wow what an amazing time we've had with everyone at YMCA for the HAF project this year!
It's been great to see all groups engaged and develop their confidence with music technology. Many demonstrating excellent skills in drums, keys, and guitar, while others mixing it up with DJ'ing, music production and beatboxing!
The group not only finished with a final performance but also expressed a desire to continue learning in the future! A huge well done and thank you to all involved!"
Rebecca Wilson, HAF Coordinator added, "YMCA have provided an excellent programme for young people during the summer holidays. It has been great to see the variety of activities on offer."
As part of the HAF fund, all activities included one or two free meals (depending on the time of day the activities ran), many of the meals included ingredients grown from our allotment. A group of kids as part of this summer programme spent time at our allotment with our chef from The Bradbury Café.