YMCA Humber opens newly refurbished accommodation at 1 Orwell Street, Grimsby.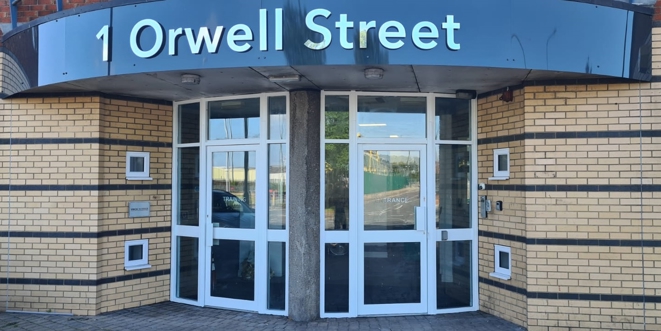 YMCA Humber are delighted to announce 1 Orwell Street, previously known as the Foyer, is now open and their first group of residents have moved in.
The Foyer closed in September 2021 when all residents moved into the newly built YMCA accommodation on Freeman Street. Over the last few months, 1 Orwell Street has been renovated and transformed into 26 self-contained studio flats for single people.
Some of the flats will be let on a supported housing basis, where residents need additional help from staff at the YMCA to successfully manage their tenancy. Others will be let to single people who are in work, higher education, moving on from supported accommodation or leaving care, and can successfully manage their own tenancy. There is no age criteria for this accommodation.
Kate Conway, Chief Executive Officer of YMCA Humber said, "We are delighted to be able to welcome the first residents to our newly refurbished flats in Orwell Street. I would like to thank all of the local contractors who have worked tirelessly over the last few months to achieve an amazing standard of renovation."
One of YMCA's community house residents has been volunteering with the contractor on the transformation of 1 Orwell Street, and is one of the first people to move into their own studio flat.
He said, "Being part of the build has given me a sense of achievement. It has been great to be involved from the start.
"Volunteering has given me the opportunity to learn new skills, make new friends, and build up my confidence."
Mark, one of YMCAs residents who moved from Freeman Street to Orwell Street has said, "the support I have received has been impeccable, and it's been a breath of fresh air moving here.
"If it wasn't for the council and YMCA, I wouldn't be here today, and I can't thank everyone enough."
Another resident, Elliot, said "It's been a rough two years for me, and I feel I have been given the second chance I desperately needed.
"For the first time I have seen light at the end of the tunnel, my kids can now see me with my own flat and I feel all the hard work from myself and Sarah, my counsellor, has finally paid off."
YMCA Humber will be officially opening 1 Orwell Street in July. If you meet the criteria and are looking for a studio flat to rent, or know someone who is, please contact Siobhan Porter, Accommodation Manager on 01472 403020.